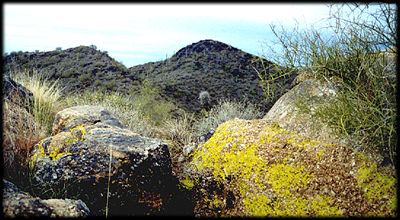 Life has a way of inhabiting even the strangest of places. And in doing so, it makes those places themselves come alive, in a bigger way. As any artist knows, it is the small touches that make the larger artwork extraordinary. I was drawn to the pinnacles and cliffs of the desert the first time I saw them. It wasn't just out of scientific curiosity, or an interest in a landscape different from the one with which I was familiar.
It was that in many ways, the rocks themselves looked alive. They had colors of their own – yes – but superimposed upon those were abstract patterns and splotches of yellow, orange, green, and gray. And then there were the dripping streaks of brown and black, looking so much like dark chocolate frosting looks as it spills casually off the side of a layer cake.
In some such places, and when I was alone, I would be still for a moment, let my mind calm, and just take in the view in front of me, without trying to analyze it. Detailed and complicated patterns would appear among the more readily apparent boulders and fractures, turning the scene into a kaleidoscope of colors, shapes, and figures. Jackson Pollock himself couldn't have displayed more impressive works of art.
A coating of life is what is responsible for that look – small life creates bigger life, so to speak. Growths of lichens, desert varnish, and moss are the "paints" upon the land. But they are not just "on" the rocks indifferently. They are connected to the rocks – the rocks give them life. Tourists from other climates ask me about the colors and patterns on the formations around the Valley of the Sun. Maybe we take it all for granted, but they notice them right away. I explain that they are living things, and they grow very, very slowly.
The brightly colored patches and spots that look like "splatter" paintings are lichens. Lichens are actually two life forms living together: algae and fungi. There are many different "species" of lichens; hence there are many different hues and textures. The algal cells are enclosed in masses of fungal filaments, all in compact arrangements that clutch onto barren rock surfaces. The algae conduct photosynthesis and provide the fungi with nutrients, and the fungi provide the algae with protection. Neither could make it on its own in such a harsh environment.
There is a budding science of lichenometry – the use of lichen growth as an age-dating technique – but it is still in an inexact stage, and there are many factors that influence growth rates. However, in Arizona, when you see a spot of lichen that is, say, several inches in diameter, you can probably assume that it is on the order of a few hundred to a few thousand years old or so.
Desert varnish (or "rock varnish", as it is sometimes called) is what we call the dark, surreal staining that cascades down rock cliffs and spires in our area, and it too, takes a long, long time to develop. The varnish is a very thin layer of manganese and iron oxides, together with clay particles.
But the key to that covering's existence is a community of tiny bacteria which live on the rock surface, and process the mineral compounds into a protective coating. By sheltering themselves with the minerals, they shield themselves from heat and drying-out, and intense sunlight. The dripping effect (on the landscape) is a result of their having an easier life where water occasionally flows, but desert varnish also coats many rocks just sitting out in the open. They look black and metallic in the sun's glare.
Ancient rock art all over the world owes a lot to those little one-celled creatures. Prehistoric humans systematically and artistically pecked through desert varnish on various rock surfaces to produce what we call petroglyphs. The thin, organically-caused patina masks the lighter color in the rock underneath, and it is that showing-through of the rock itself which forms the desired image.
Moss is a plant that also grows in small communities on rocks, but you don't see it in too many places in the desert, as it needs more water. Look for it in spots where the sun never shines, and where water can flow periodically. Most of the time it is a dark-gray or black, soft, puffy growth. The time to see it in its glory is right after a good rainfall, when it comes alive again, and is a bright, emerald green in color. It is also much softer to the touch, then.
All of this life is part of the surface of the rocks. The next story will look at the life inside of the rocks, and, there is plenty of that, too.